Voice 2010
If you aren't already there then you might know someone who is. Voice 2010 is in full swing and my friend and fellow VO and blogger Dave Courvoisier is presenting it this year (much the same as he did during the last the conference.). Dave is giving a blow by blow account of the events currently taking place at the conference on his blog here.
Although I couldn't be there myself I did take part in Advertising The Vocieover Pavilion in the Event Brochure (page 22 if you are reading it from V2010):
Paul Strikwerda Interviews Taji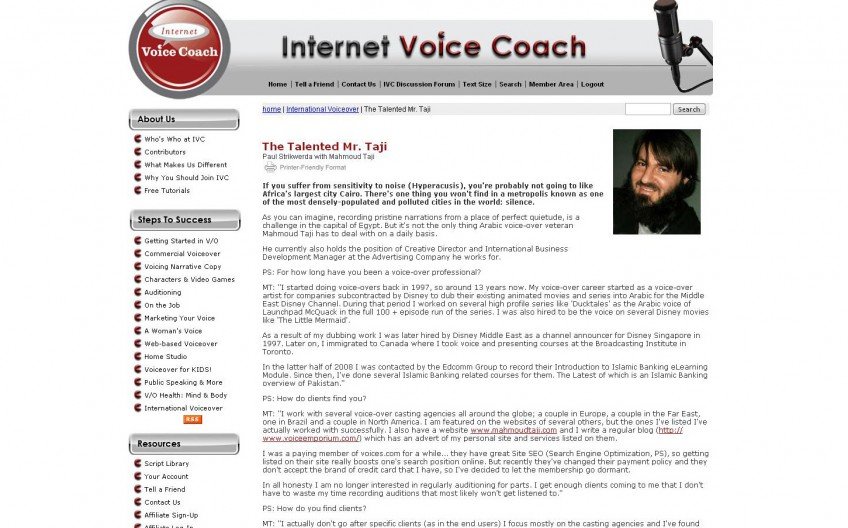 My friend,  and favorite Dutchman Paul Strikwerda recently started writing a column for the Members only site Internet Voice Coach and decided I was interesting enough to conduct an interview with (what's all that about?) We did it over email and for those interested in reading the interview you can find it here:
The Talented Mr. Taji is that interview's title but you will need to register for the site… If you are not interested in paying to read the article the site can give you a three day trial membership which will let you browse through their content.
New Promotion Coming Soon to The Voiceover Pavilion
As some of you know I am a Creative Director at an Advertising Agency… but to get to that position I spent a decade or so being an Art Director and Graphic Designer. So I will soon be announcing a nice little promotion for those who might be interested in getting a listing on The Voiceover Pavilion. The promo will consist of giving away 5 prizes… but all 5 prizes go toward the digital promotion of the artist:
The prizes are only applicable to members who subscribe to the Prestige Package.
1. A logo design or logo revamp as well as a business card design (2 design hours of my time worth $130)
2. A Footer Banner Advert for 1 month on the front page of the Voiceover Pavilion (can help design ad for you)
3. A Sidebar Advert for 1 month on the front page of the Voiceover Pavilion (can help design ad for you)
4. A Category specific advert on any category page of the Voiceover Pavilion for 1 month (can help design ad for you)
5. An Extra Listing that can be given away to any VO related professional of your Choice!
For existing members of the Voiceover Pavilion you can enter the contest by purchasing a second listing (which you can do by the way) so you guys don't feel like I abandoned you.
For 5 other users I will give them the benefit of my design experience and review their site and suggest changes (so free consultation if you will).
I will announce when this promotion will start in a few days by which time you guys can also send in  your feedback and tell me if you like or dislike my suggested prizes. I think for those who like the idea of getting your logos designed by a professional this could be a great opportunity for getting a couple of hours of free design time.
Taji